Wednesday, April 3rd., 2024 ─ Sunday, April 7th., 2024
Wednesday, April 3rd., 2024
Wednesday, April 3rd., 2024
13:00 – 18:00 *Buyer Only
Thursday, April 4th., 2024
12:00 ~ 18:00 *Buyer Only
Wednesday, April 4th., 2024
In order to maintain the quality of this exhibition, please observe the following matters when visiting. Anyone who violates the following matters will not be allowed to continue visiting in the exhibition hall:
It is strictly prohibited to bring all kinds of banned and dangerous items, liquids, bottles and cans into the exhibition hall.


Please do not chase and play, smoke, lie down on seats, sit on the spot, take off your shoes, and throw away scraps of paper and miscellaneous objects in the exhibition hall.


Please do not bring pets (except guide dogs), large objects and toys into the exhibition hall for visiting.


Please hand over large backpacks, travel bags, suitcases, etc., in the cloakroom for safekeeping. The organizer may implement necessary security inspections.


In order to respect the intellectual property rights of the manufacturers, if you want to take photos of exhibits during the exhibition, you must obtain the consent of the manufacturers. Thank you for your cooperation.


Please keep the ticket properly. If the ticket is lost, damaged, punched or other circumstances making the ticket unrecognizable, it will be regarded as invalid, and will not be accepted for return, exchange and reissue.


Each ticket can be used once by one person only, and a hand stamp will be stamped after entering the exhibition. The hand stamp can be used for entry and exit on the same day, the ticket will be invalid once the admission is torn off.


For details of the event, please refer to the announcement on the official website and community platform.


The organizer reserves the right to revise, change, explain the event and cancel the event. Any relevant changes will be announced on the website without prior notice.
Taipei Expo Park Yuanshan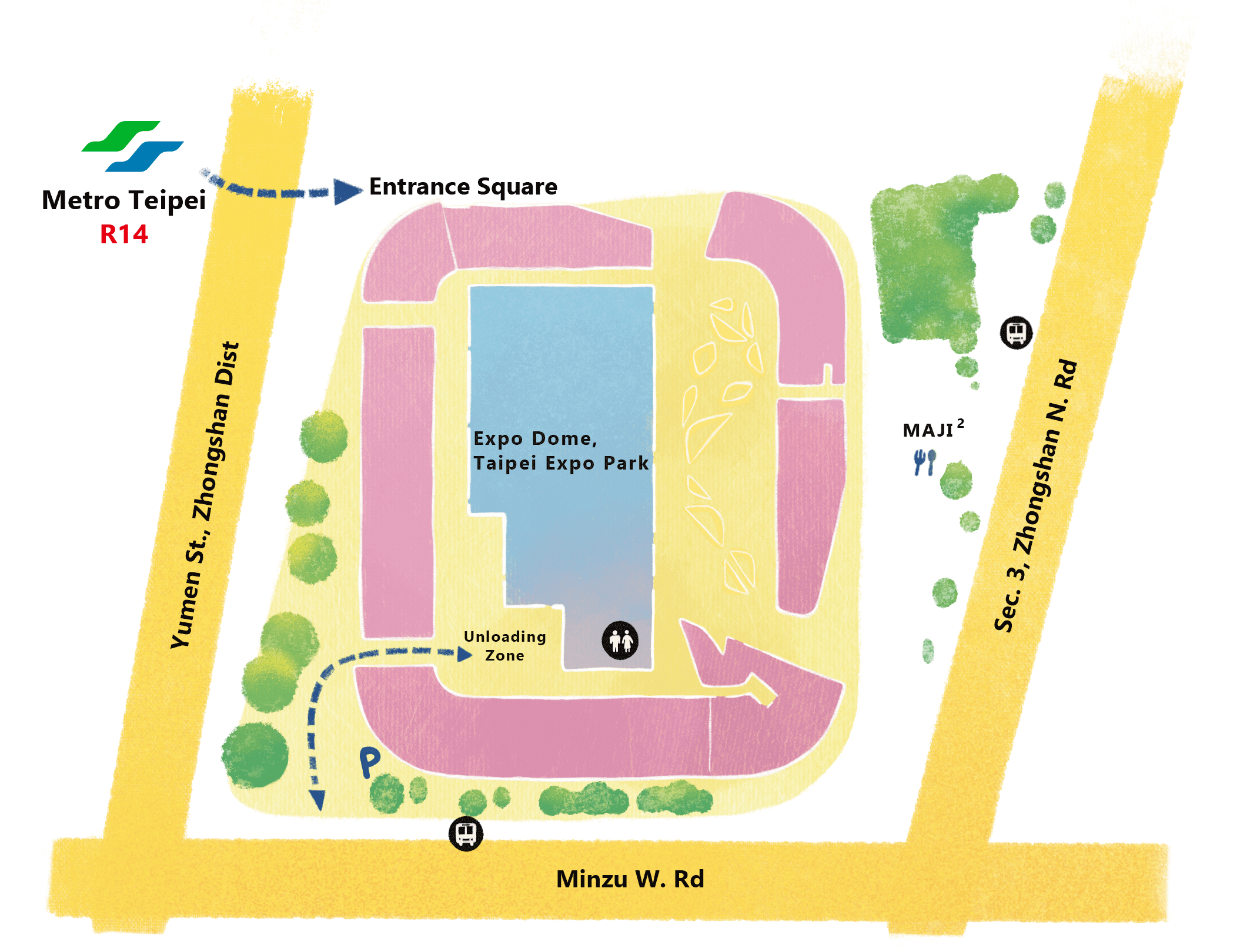 VISIT Taipei Expo Park Yuanshan
Address:No.1, Yumen St., Zhongshan Dist., Taipei City 104, Taiwan (R.O.C.)
‧Taipei Expo Park Yuanshan underground parking: Intersection of Yumen St. and Minzu W. Rd.(NT$40/hr)
‧Children's Recreation Center Parking Area: north side of the intersection of Yumen Street and Dunhuang Road (Children's Recreation Park Entrance)
‧MRT Yuanshan Station (Yumen St.): 21, 28, 42, 208, 247, 542, 677, R2, R33, R34 (holidays only), R 50.
‧Zhongshan Soccer Stadium Stop (stops on Minzu E. Rd.): 208, 246, 542, 218, R33, R34 (holidays only)
‧Tamsui Line:
Yuanshan Station (exit No.1)→ Yuanshan Park Entrance